196+ forum Vienna
26 – 28 November 2023
We are back with the second edition of the 196+ forum Vienna!
With this year's focus being on Sustainability and its three pillars Environmental, Social and Governance (ESG) our aim is to create a dynamic event that facilitates cross-industry collaboration, fosters the exchange of innovative ideas and bring together experts from various fields to drive meaningful impact. We want industries to exchange best-practice examples through workshops and have our guests leave with tangible benefits.
---
What to expect
Together with the Vienna Tourist Board and Museum Booster we create an international platform that builds bridges and connects experts from various sectors. Expect three days of networking, panel discussions and cross-industry learnings with the main question being: What can we learn from each other and how can we cooperate?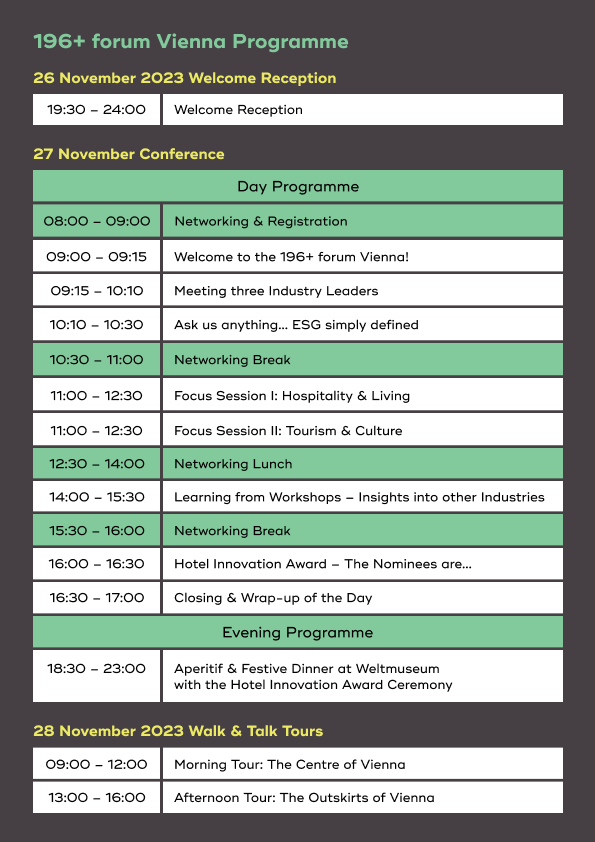 *Subject to modification. Please note: Only limited seating at the Festive Dinner available!
---
Highlight: The Hotel Innovation Award 2023
Just like innovations continuously change so does the focus of our 196+ forum Vienna and the criteria for winning the Hotel Innovation Award. While last year revolved around "Human Resources", this year is all about "Sustainability". Hotels or hotel groups can submit their innovative ESG concept online and we are looking forward to the variety of participations.
Out of all applicants, an independent jury nominates up to ten hotels and shortlists three finalists, which will be presented at the 196+ forum Vienna. The award ceremony and the announcement of the winner will take place at the Festive Dinner.
Winner of the Hotel Innovation Award 2022: Seminaris Hotels
More information on the Hotel Innovation Award
---
Sponsors and partners 2023
---
Gallery 2022
Please click on the images below to see a larger view.
196+ forum Vienna ©Florian Arnoldner - Annex Productions
Curious? Contact us vienna@196plus.com