Hotel Innovation Award 2022
The newly created industry award "Hotel Innovation Award" focuses on a different aspect of innovation in hotel groups each year. In 2022, the focus was on Human Resources! Next year's focus will be on ESG and sustainability!
Congratulations to the winner Seminaris Hotels.
The hotel group particularly impressed the jury with its New Work concept! Seminaris Hotels have successfully established a cross-departmental, cross-site and cross-hierarchical transformation team, the so-called Trafo Team, which is shaping the cultural change from within. This internal change led to a realignment of Seminaris' own product. Seminaris has recognized the changing world of work and its disruptive potential for its own business model, as it has become increasingly difficult to recruit and retain skilled employees over the long term. That's why Seminaris is focusing on change from within the workforce. They demonstrate that New Work is possible in the hotel industry. "We make people grow" is not only a slogan, they live by it!
Sebastian Noack, spokesperson of the jury and Head of International Project Business at Bette: "Innovation starts with people. That is why it is only right for the premiere of this innovation award to also start with the employees. We are very pleased to honour with this award companies that have understood that it is not only the product that counts, but also the host and thus all employees. Only those who enjoy being a host and constantly create a positive atmosphere for all those 'who live in the house' will find high resonance and occupancy at economical (room) prices. The current situation with a shortage of employees offers creative professionals an opportunity to differentiate themselves in the long term. Our finalists demonstrate this."
Other finalists in alphabetical order:
Hilton Hotels Austria, which has developed a concept to open up new markets and find talent and future potential for the hotel industry. Accordingly, Hilton is recruiting targeted team members of older ages and posting jobs on websites specifically for refugees. Broadening the range of candidates ensures recruiting success and a more diverse work environment. Hilton also works with "Hilfswerk" and other institutions that support the integration of apprentices into the labor market.
MHP Hotel AG - as a further finalist - together with the IST University of Management, Düsseldorf, has set up a dual course of study in which young talents start a distant learning program at the University and complete an internship in three different hotels or brands in three different countries to graduate with a bachelor's degree in hotel management.
About the Hotel Innovation Award 2022
The "Hotel Innovation Award" is aimed at innovative hotels or hotel groups throughout Europe and focuses on a different aspect of innovation in the hospitality sector each year. In 2022, the focus was on Human Resource management. 14 applicants competed in this year's award and submitted their applications in the following categories: Recruitment, Leadership, Retention management, Employee learning and development, Employer branding, Diversity and inclusion management, and Digitalization.
The jury of experts, consisting of seven members in total, was formed of representatives from the fields of human resources, science, operations and consulting. The decisive factor in selecting the nominees is the interplay of the following criteria:
Differentiation and game changing
Scalability and cost-effectiveness
Impact on employees
Impact on society and the hotel
In 2023 our focus will be on ESG and sustainability!
We would like to thank our jury: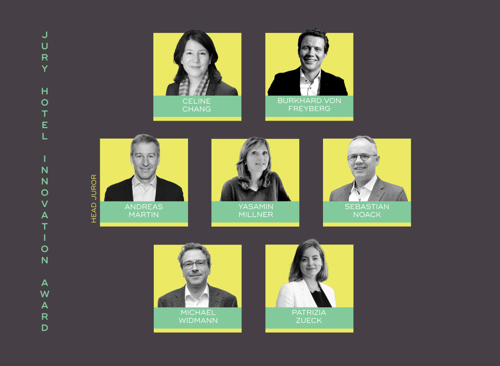 Gallery:  
Please click on the images below to see a larger view.
Curious? Contact us vienna@196plus.com